A black hole is a massive object with such powerful gravity that not even light may escape from it. Black holes only have three unique properties which are mass, charge, and spin. At one time black holes were a speculative phenomena, but astronomers now understand that black holes are a relatively common and important occurrence in our Universe, unfortunately the public and science fiction still seems to be in dark. There are a lot of misconceptions about black holes:
If the Sun was replaced by an equal mass black hole then the Earth would fall into it. In reality we would continue to orbit about the center of mass of the new black hole object and about eight minutes later after the Sun was removed it would be dark on Earth (that is how long it takes light from the sun to get to us).
Supermassive black holes distort the space time around them in a very extreme way. Actually, the larger the black hole the smaller the distortion and tidal forces around it such that a very massive black hole hardly distorts the space time outside its event horizon, of course, every black holes does very strange things with space time inside the event horizon.
Tiny black holes created by particle accelerators like the LHC may destroy Earth. The truth is that these tiny black holes would evaporate extremely rapidly via Hawking Radiation and they have such a small gravitational interaction they would not pull in any other matter.
Black holes lead to extra dimensions. Why don't you jump into one and tell astrophysicists what you find?
Black holes are strange objects. Massive black holes shape the evolution of galaxies, charged black holes are thought not to exist, and spinning black holes pull space itself around at close to the speed of light. According to Einstein mass tells space time how to curve and space time tells mass how to curve. So all mass distorts space in a small manner, but black holes create what are known as singularities where the mathematics which describes the curvature of space time breaks down.
escape velocity
(the actual situation is much more complicated than this, but suffice to say
it's... complicated
). We can find the escape velocity for any object of mass, m, away from a more massive object of mass M by setting the object's kinetic energy, 1/2 m v
2
, equal to the potential energy of the object in the massive object's gravitational field, GMm/r, where G is Newton's gravitational constant. A terrible thing happens when you consider what happens if the object had a velocity equivalent to the speed of light, c. Suddenly you find there in a mass and radius combination which creates and object so dense from which not even light can escape. The radius to which an object must be compressed to form a black hole is known as the Shwarzchild radius or the event horizon.
s
the denominator becomes zero and dividing by zero is next to impossible. This is the
singularity
. The singularity is unavoidable as no mathematical trick or coordinate transformation can rid the Schwarzchild metric of all singularities.
The astronomy of supermassive black holes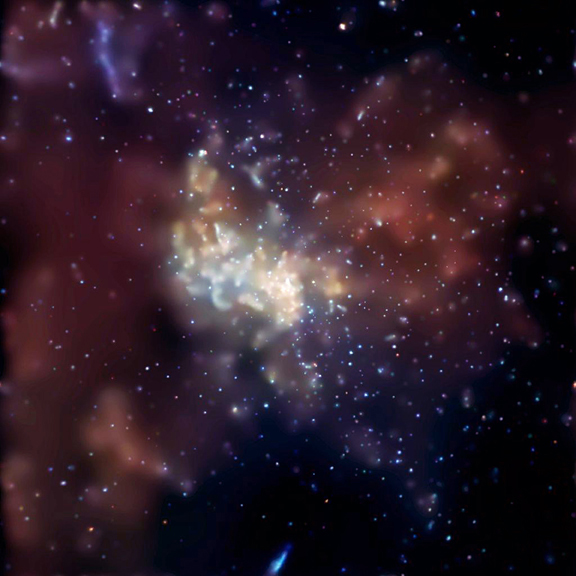 Observations of other galaxies, particularly nearby galaxies, reveal compelling evidence that nearly all galaxies have a super massive black hole at their center. The Milky Way has a supermassive black hole at its center known as Sgr A*. How these black holes form is not well understood, but it must have been long ago when the universe was very young such that the black holes had time to grow. They may form from the collapse of some of the first stars created in the Universe known as Pop III stars or they may form from the monolithic collapse of a cold could of gas in the early Universe. Many galaxies emit very high energy radiation from their centers (ultraviolet, X-ray or gamma ray) that is easily explained by a super massive black hole at their center. These galaxies are said to have Active Galactic Nuclei (AGN), but our Milky Way does not emit such high energy radiation. This an interesting and lucky fact that astronomers have explained by noting that if gas is actively falling onto a black hole it forms and accretion disk which heats up to very high temperatures. Thus matter falling into a black hole emits massive amounts of powerful radiation just
before
it falls into the black hole. Active galactic nuclei are especially correlated with galaxies which have just undergone mergers with other galaxies which are gas rich; the theory, which is backed up by simulations and observations, says that when gas rich galaxies merge gas funnels into the central super massive black holes and induces a period of high luminosity. The black hole at the center of our Milky Way also undergoes periods of gas accretion or luminosity spikes in the X-ray to radio bands. One such event in May of 2003 was a powerful flare seen located just a few milli-arcseconds from the position of Sgr A* which corresponds to less than ten Schwarzschild radii from the black hole position.